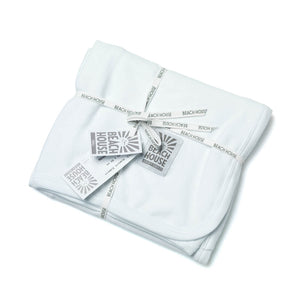 BABY BLANKET BLANKIE
Regular price €32,90 Sale
The blanket is made of 100% combed cotton thread that is finely knitted; so-called single jersey. This is the same fabric T-shirts are made of. Size 70×80 cm
Oeko-tex certified
All Beach House bedding products have the highest rating of Oeko-tex certification – Class 1 (covers the safety of baby wear). This means the production process involves no hazardous chemicals.
Advantages 
Single jersey fabric breathes better than closely woven high thread count sheets, it is more supple, and few materials can compare to its soft surface.
Quality 
Beach House Jersey products are tested for strength, wringing, durability and colorfastness.
Non shrinking
Beach House Jersey Sheets are anti-shrinkage treated.
Wrinkle free
It looks equally smooth after tumble drying as it does having hung out to dry.
Non pilling
The fabric is treated with special enzymes to prevent pilling. This procedure makes the bedding give off some cotton lint in connection with the first few washes, especially when using a tumble dryer.